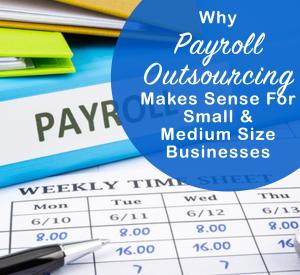 Why Payroll Outsourcing Makes Sense for Small & Medium Size Businesses
Chief of Minds | Jun 4, 2018
When you're managing or running a business, it can feel like the whole world is on your shoulders. However, there are several ways to lighten the load and make your time more effective and efficient. Outsourcing payroll is one such method. It saves you time and allows you to focus on the parts of your business that you do the best!

Navigate the red tape
There's no reason for you to get bogged down in the legal slog. Payroll providers spend their days navigating the tricky boundaries between federal, state, and local payment laws so you don't have to. Not only does this save time, but it keeps you from making legal mistakes that could cost you both time and money to fix. When tax season rolls around, a payroll provider will be there to satisfy employee needs and keep you from having to pay IRS penalties.

Take the changes in strides, not stumbles
Laws and technology are changing all the time and it can be hard to keep up. Rebuilding your system with every update can be stressful, messy and time-consuming. Payroll providers allow businesses to take the changes in strides, making the adjustments for you so you can continue with business as usual.

Share the weight, delegate
As a manager or business owner, every decision you make is vital to your business' future. Given the vast amount of decisions that must be made, delegating tasks can help keep you focused and reduce stress. Payroll is a constant concern in any business, so it should be as painless as possible. Rather than chasing down individual employees for paperwork or reading dozens of tax laws every year, payroll providers will do it all for you.

Play it safe
When it comes to your business, money is the center of many decisions. Outsourcing payroll may seem like an unnecessary expenditure in the short run but it's priceless in the long run. The time you save by outsourcing will end up saving you money leaving more time to focus on growing your business. Payroll providers act as guardians against identity theft, embezzlement, hacking, and other such dangers. In instances such as these, more experienced and secure systems can become priceless assets.
Was this article useful? Chief of Minds provides innovative human resources and payroll services that position your business for growth and increase productivity and profitability. Our full-service human resources strategy firm focuses on helping small to medium businesses decrease workload, improve HR functions and reduce costs. We're here for you to win!